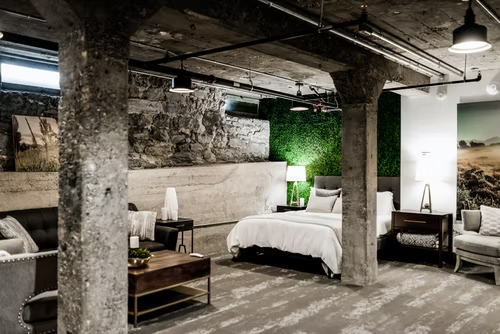 What to Get When Doing Your Basement Renovation? There are many ways to transform an unfinished room into a comfortable living space. Many of these methods are easy to do at a minimal cost. For example, you can turn a small basement into a home office by installing built-in shelving and a cork wall to place notes. If your basement is large, you can use it as a wine cellar or create a closet out of under-stairs space.
Depending on the type of ceiling you want, you can choose drywall or sheet paneling for the ceiling. Although ceilings can be tricky to work with in a basement, you can choose from a variety of materials that won't show water damage or transmit sound. For a more modern look, try painting the ceiling to give it a new look. Make sure you choose a paint color that will match the rest of the space.
Levels – Using a level is a critical component of your basement renovation. This simple tool is essential if you plan to frame the area and hang doors. They're relatively inexpensive, and are useful for a variety of household projects. You'll need a 4-foot level for general use, a 6-foot one for rough framing and installing doors, and smaller ones for hanging artwork. Make sure you have a level on hand so you can see exactly where you're working.
Another essential item for your basement renovation is a home gym. Having this extra room can add value to your home if it's ready for use. For example, installing a home gym in a basement can add thousands to your home's value and appeal. When renovating your basement, you must keep in mind that you must leave room for the HVAC and water heater. Otherwise, you'll have to deal with repairs and the cost can be substantial.
Lighting is a vital aspect of basement renovation. While natural light is a welcome bonus, you can't always count on it. Therefore, it's important to plan for adequate lighting before you start tearing down walls and building new ones. You also need to consider your basement's electrical panel, as it will be under a heavier load than normal. Luckily, there are a lot of ways to light a basement and make it look appealing.
When planning your basement renovation, remember that there are certain necessities. Many basements come with utilities and heating ducts, making them a great place to convert to quality living space. You can also consult an architect or interior designer to get the most out of the space you have. They can help you decide which materials and amenities are essential to your basement renovation. You'll be happy you did. Just remember to make a budget for your basement renovation before buying the materials.
Before starting your basement renovation, make sure to check the walls for any water damage. Some basements are damp, even when they're properly ventilated. Even if you've finished your basement, one big storm can ruin your efforts. If you plan to finish your basement renovation, consider installing a sump pump. A sump pump will help reduce water damage and prevent flooding. If you're going to install a new bathroom, a sump pump is an excellent choice.
For more info about Ajax Basement Renovations and Basement Finishing Toronto, visit our website at TROCanada.